Stations of the Cross Sculpture Introduction:
This is a Stations of the Cross Sculpture. The one shown to you is the fourteenth place of the crucifixion. It depicts the burial of Jesus' holy body in a tomb. We use beautiful sunset red natural marble as the raw material for this statue, and every detail is vividly displayed and looks very realistic.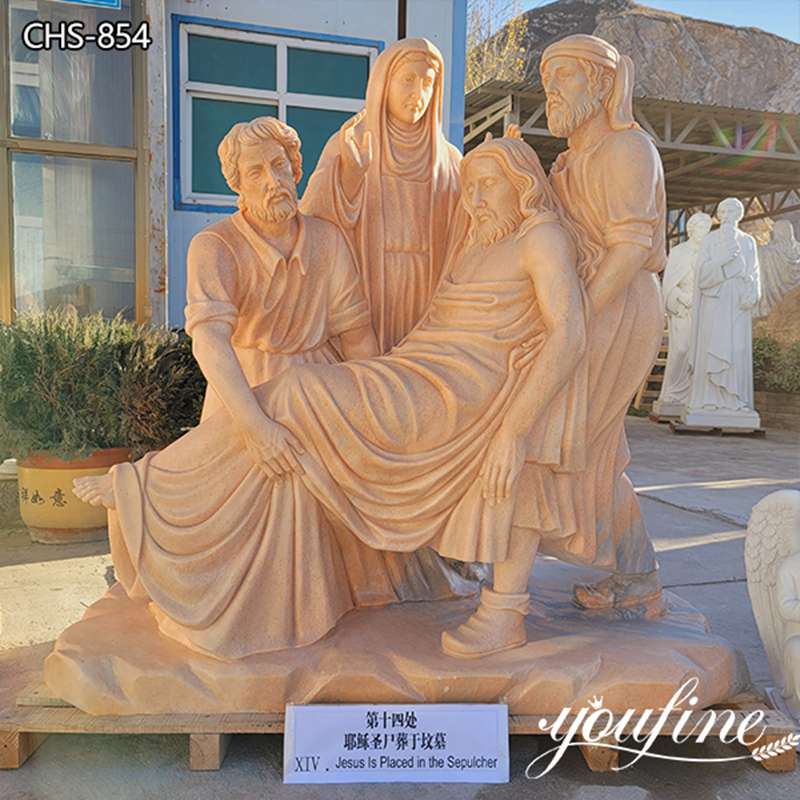 This Stations of the Cross Sculpture series consists of 14 groups, with a total of about 55 character statues. The material is natural marble, we have white, pink, and beige marbles that could be used to carve statues. These statues come from the design pictures of our clients, they send us the pictures they want and our artists carve these sculptures according to the design pictures. All of these statues would be placed in the church garden and many visitors would see them after installation.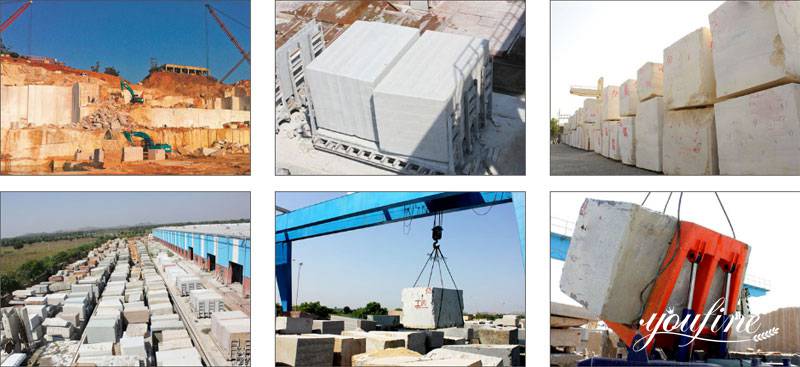 How We Carved these Statues
In order to carve the 14-station cross more vividly, our artists pose according to the pictures of the design, and then they could know what the statue looks like, so we are very professional in these Jesus sculptures. Our factory also has a history of more than 35 years, we have professional artists to carve religious statues, and our quality could be guaranteed. So you could see every statue come to life, we could see the whole story, we could feel the sadness of Jesus and the Virgin Mary, we could feel the despair and loneliness of Jesus, it's so shocking!!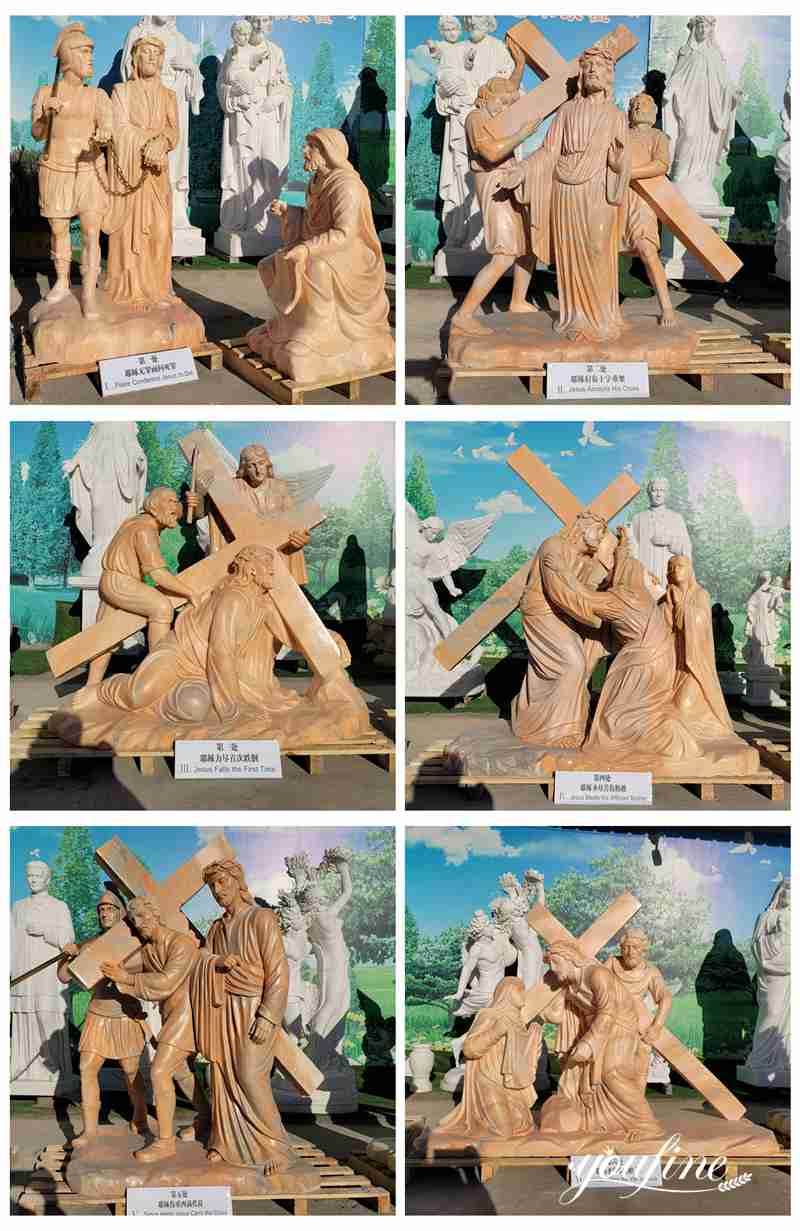 More Design and Customization Services
In addition to the 14-station cross, we also do various religious statues, as well as altars, ambos, pulpits, and more. If you could provide us with a picture of the design you like, we could engrave the item according to the picture and the size you need. We have done some projects for churches in different countries, just tell us your requirements and we could accommodate you.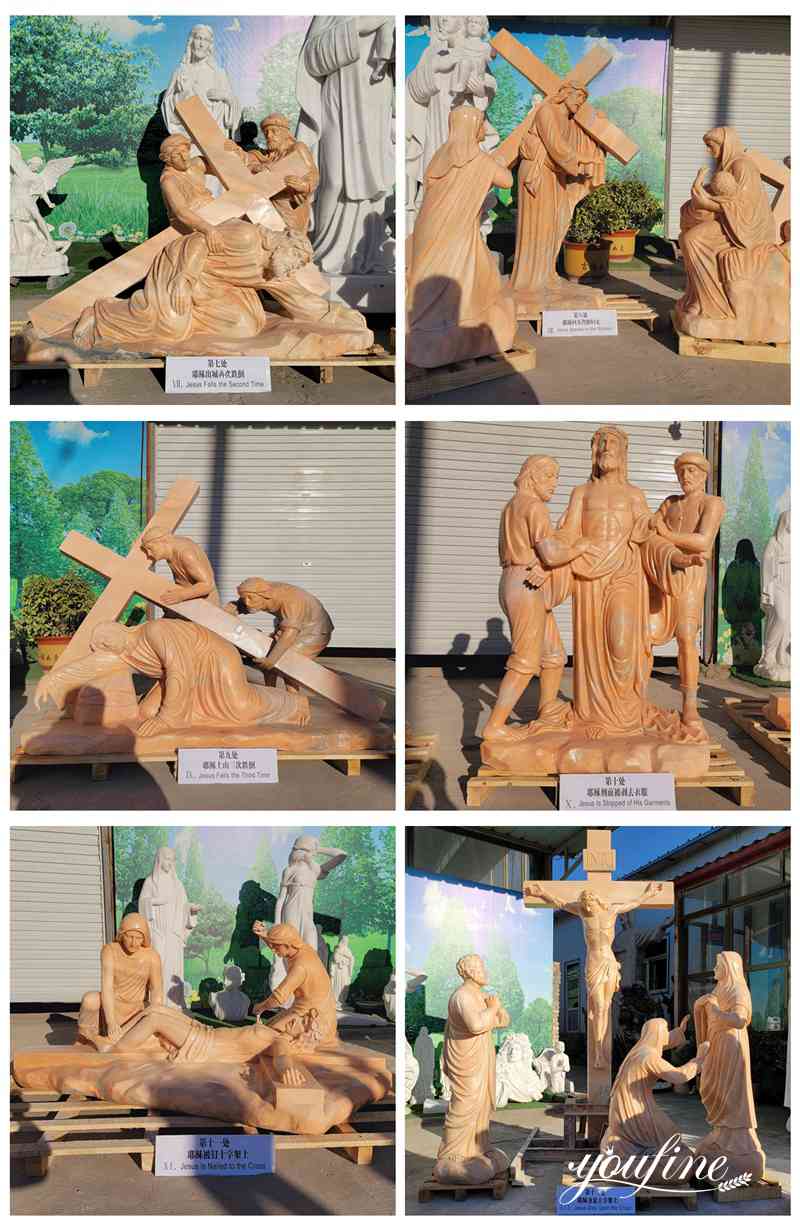 We have professional polishers, professional packers, and long-term cooperative shipping agents who could help you arrange delivery. to ensure that all these statues reach you safely. So if you are interested in Stations of the Cross Sculpture, please contact us.